ENDOTHELIUM
Bullous Keratopathy is a pathological condition which affects the cornea in which small vesicles, or bullae, are formed in the cornea due to endothelial dysfunction. Bullous keratopathy more often occurs in old age and has been addressed as the most common disease affecting the cornea in old age.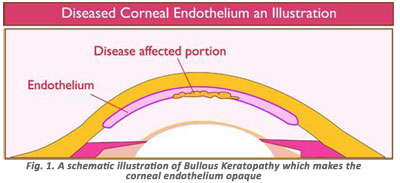 Corneal Transplantation is an effective approach to restore vision for such conditions.
Though the cornea has three well defined components, until recently, even for a partial damage of the cornea i.e. damage of one of the three components, the whole cornea was transplanted.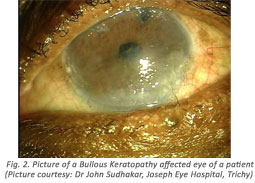 Endothelium was considered to be a very sensitive single layer of cells. Even growing mature endothelial cells in the laboratory was considered to be difficult.
Endothelium being a sensitive layer of cells could be damaged even when a lens removal procedure is done or could get damaged with aging and no regeneration by natural repairing process was found to be occurring for its recovery.

With this background, when a cadaver eye (dead donors cornea) is obtained it will be used  for transplantation to only one prospective recipient (needy patient) with the technology presently being used worldwide.
To overcome this, NCRM has employed a new technology using which
When a donor corneal endothelial specimen is received, it could be used for more than 5-10 needy patients' eyes against the present technology by which it could be used for only one patient's one eye.
There is no need that every small clinic/hospital in small villages/periphery should have a stem cell processing laboratory with elaborate investments and infrastructure, but a central lab within reach by 24-36 hrs logistics facility that too in room temperature preservation of the cells can serve a large surrounding area making things affordable to common man.
Publication: Abraham S, Farzana BL, Majunath S, Shrieff AK, John S, Jesudasan C.A.N, Philip T, H.Yoshioka, Y. Mori, Amano S. Successful transport and in vitro expansion of corneal endothelial precursor cells, using a novel thermogelation polymer(TGP). ASIA ARVO, Singapore, 2007